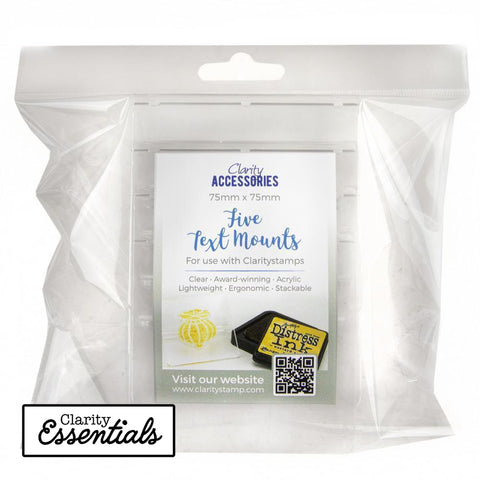 Pack of 5 Text Mounts
ACC-MO-30659-XX
Text Mount: 75mm x 75mm
These award-winning handles with the clever twist are quite simply brilliant:
• Wafer thin - no image distortion
• Lightweight - no matter how large the stamp
• Ergonomic - especially for people with dexterity problems
• Easy store - stackable
• Versatile - suitable for all photopolymer, acrylic and rubber stamps

Simply peel your stamp from its acetate and it will cling to your ClarityMount. When you change images, clean the stamp with baby-wipes or water, then peel the stamp off the mount and store on acetate. In order to temporarily affix a red/grey rubber stamp to the ClarityMount, use spray adhesive or a glue-stick.

Use the clever handle to hover over the surface you wish to stamp on, until you find the right place to stamp your image. Then lower your stamp down onto the surface, and apply pressure on the flat of the ClarityMount to ensure a good print.
---
---
We Also Recommend